From the
Chairpersons's Desk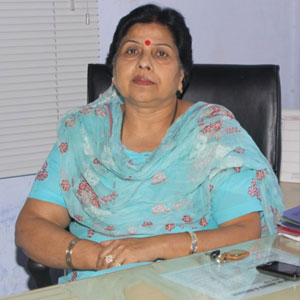 The intellect of man is forced to choose perfection of the life or of the work. It gives me immense delight to welcome all the students who are being admitted to Trikuta Degree College, Jammu, a concern of Shri Sain Charitable Trust. The Trust is also running different courses in the following colleges:
1. Jammu Institute of Ayurveda & Research.
2. Trikuta College of Education.
3. Jammu College of Physiotherapy.
4. Trikuta College of Para Medical Sciences.
5. Jammu Law College.
6. IGNOU Convergence Scheme.

Trikuta Degree College in its 15th year of establishment is going to become Deemed University in the near by future and going to add certain new technical courses. The college with its panoramic view situated amidst Trikuta Hills is one of the leading Colleges in private sector. The College recently has been certified ISO: 9001:2000.
Undergraduate education serves as platform of moulding the minds of young boys and girls. Transforming them into responsible citizens who can chalk out their career and act independently. The college with its fifteen year old history is fully equipped to provide all possible opportunities to the new entrants. Over the years the college has produced a galaxy of candidates who have left their mark in various fields. The infrastructure of the college is constantly upgraded to make it relevant to the challenges of new millennium. New subjects are already a part of regular curriculum and we plan to introduce a host of career-oriented courses in the field of Computer Application, Electronics & Business Management.
Discipline is one the basic requirements of the civilized life & the importance of discipline in educational institution is well recognized. I expect all the students to maintain the highest norms of discipline, as it is essential for personal growth as well as national prosperity. The college has the distinction of a highly qualified & dedicated faculty, who besides teaching, inculcate higher values of life in students to make them conscious of their failures & proud of their achievements.
The teachers play a pivotal role in all the extra – curricular activities of the institution, thereby, generating an atmosphere of disciplined co-existence, cooperation and encouragement amongst the students. We are legitimately proud of a democratic& transparent working system in the college.
I take this opportunity of placing on record my sincere thanks to Prof. M.K. Dhar (Vice Chancellor JU), & Prof. R.K. Ganjoo (Director College Development Council) who have been a guiding spirit for the smooth & efficient functioning of the institution. It further indebited to all my well-wishers, friends, guides, advisors & above all my critics who inspire me to excel.
Together we shall endeavor to maintain the pristine glory of the institution by imparting quality education and scale the walls of ignorance, superstition, injustice & invigorate society by the refreshing breeze of knowledge & information. Though it will take time but I am sure success will be ours.
- Mrs. Suman Sharma
Chairperson, Trikuta Degree College