About Us / Chairman's Message
From the
Principal's Desk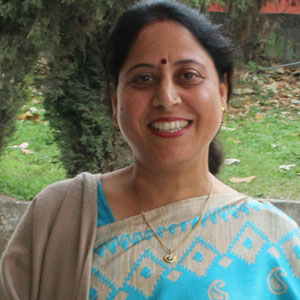 I am extremely happy to welcome the fresher students who are at the threshold of attaining higher education to join this institution for having an opportunity of becoming an overall developed and learned citizens of the states.
With the blessings of our founder Chairman Late Dr. Roop Lal Sharma, my aim is to monitor the quality of education by improving the knowledge of faculties by arranging Refresher courses and participation in the academic activities like seminars/conferences.
I wish the students a very happy and academically rich time in the college and I shall also advise them to desist from those practices which have corroded the physical and mental health of many swept by the craze of the day.
- Mrs. Sunita Magotra
Principal
Trikuta Degree College
Quick Facts
Founded in 2001.
Located in village Bajwan, Nardani Raipur .
Accredited by the NAAC.
Affiliated with the University of Jammu (J & K).
Various distinct graduate degree programs.
18 full-time faculty members.
30+ part-time, emeritus, sessional, and visiting faculty members.
600 full- and part-time students from various states.
More than 4,000 graduates and 17,000 former students worldwide.