Awareness Rally - World Aids Day
Awareness Rally on World Aids Day - 01 December 2015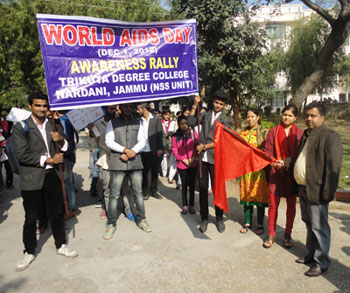 Trikuta Degree College organizes Awareness Rally on Worlds Aids Day
In continuation with the ongoing efforts to become one of the pioneer institutions of north India, Trikuta Degree College, Nardni-Raipur, Jammu today organized an awareness rally in collaboration with NSS unit of the college in the village Bajwa Nardani on Worlds Aids Day.
The theme of the rally was to aware the masses about the Aids. Student interacted with the local people and also visited the Government school of the area.

Mr. Ritesh Sharma, Managing Director of the college and Mrs. Japna Sharma Member Trustee flagged off the rally and appreciated the efforts made by the students and staff of the college. Mrs. Sunita Sharma Principal of the college addressed the students before the Awareness March. The overall rally was organized under the supervision of Ms. Gurpreet Kour, Programme Officer NSS unit of the college.